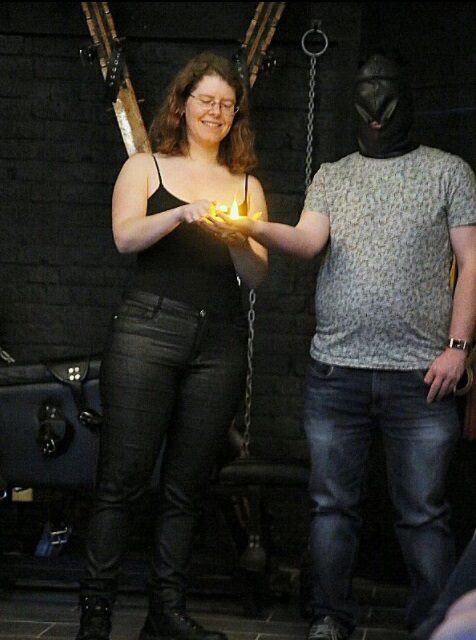 Vicky of Bondatrix
Kink Convention Underviser
These workshops will be run by Vicky of Bondatrix.com. Vicky has been on the Fetish scene for over 23 years, running workshops and a fetish business for 18 of those and has presented at Kinkfest, the Rome BDSM conference, Dublin wicked workshops, Erotica, Skin Two, the BBB, to name a few. Bondatrix runs a YouTube channel of How To kink videos – look up Bondatrix. Vicky is a specialist in many practical impact play and bondage techniques, as well as the psychology of putting everything together to create a wonderful play session. Bondatrix has won the International Bondage awards and the UK Fetish Awards. This is a fantastic opportunity to come and learn with one of the most established workshop presenters on the UK fetish scene. As well as having some fun trying various pieces of fetish equipment and seeing how they feel! There will the opportunity to buy Bondatrix.com equipment during and after the classes, as well as a selection of Bondatrix's products. Cash and cards accepted. There will only be a very small selection of the website's 500+ products so if you are interested in a specific item please message Bondatrix before the event. This is a great chance to buy Bondatrix items in person, without having to pay the postage and customs fees for shipping from the UK!
Impact play -practical techniques and how to build a scene.
Denne workshop er ideel til helt nybegyndere og dem med en vis erfaring, der ønsker at blive bedre i slagspil. Du kan komme alene eller sammen med en legepartner. Der vil være en workshop at se og mulighed for at prøve ting.
Har du nogensinde tænkt over de forskellige retninger, du kunne tage en scene med en effekt? Er det noget, du har gjort uden at være klar over og gerne vil udforske nærmere? Denne workshop vil vise de praktiske elementer i, hvordan man bruger floggers, pagajer, stokke og afgrøder, lige fra begynderteknikker til mere avancerede teknikker. Det vil også lære dig, hvordan det kan tage en scene i helt forskellige retninger ved at vælge et andet sæt og bruge det på en række forskellige måder. Hvilken rejse vil du tage din underdanige med på inden for den scene, og hvad vil du have, at slutresultatet skal være? Sigter du efter at tage din partner med på en sensuel rejse, udforske intimitet og forbindelse under scenen? Vil du have en intens scene i højt tempo, der bygger en rutsjebane af fornemmelser og stimulerende endorfiner? Vil du have en smertebaseret scene til enten at straffe din underdanige eller skubbe en masochist så langt som de kan (sikkert) gå?
Denne workshop vil give dig masser af tips og ideer til at vælge det rigtige sæt til scenen, bruge det på forskellige måder i hele scenen, og også hvordan du ser kropssprog og sikrer, at den underdanige tager på den rejse, du sigter mod at tage dem. på under hele dit spil. Denne workshop er ideel for helt nybegyndere til erfarne spillere, der ønsker at få nogle nye ideer og tips. Der er masser af praktisk tid fordelt på hele klassen, så du kan prøve teknikkerne under Vickys kyndige vejledning.
Erfaringsniveau for deltagere: Ingen.
Hvad skal du medbringe: Udstyr vil være tilgængeligt til at låne (eller købe) under workshoppen ellers må man gerne medbringe dit eget.
English Version
This workshop is ideal for complete beginners and those with some experience who want to improve at impact play. You can come alone or with a play partner. There will be a workshop to watch and the opportunity to try things out.
Have you ever thought about the different directions you could take an impact play scene in? Is it something you've done without realising and would like to explore further? This workshop will show the practical elements of how to use floggers, paddles, canes and crops, ranging from beginner techniques through to more advanced techniques. It will also teach you how selecting different kit and using it in a variety of ways can take a scene in totally different directions. What journey do you want to take your submissive on within that scene and what do you want the end result to be? Are you aiming to take your partner on a sensual journey, exploring intimacy and connection during the scene? Do you want a fast paced intense scene building a roller coaster of sensations and stimulating endorphins? Do you want a pain based scene to either punish your submissive or push a masochist as far as they can (safely) go?
This workshop will give you lots of tips and ideas on selecting the right kit for the scene, using it in different ways throughout the scene, and also how to watch body language and ensure the submissive is going on the journey you are aiming to take them on throughout your play. This workshop is ideal for complete beginners through to experienced players who want to gain some new ideas and tips. It will have plenty of practical time spread throughout the class for you to try out the techniques under Vicky's expert guidance.
Experience level for participants: None.
What to bring: Kit will be available to borrow (or buy) during the workshop or bring your own.