Bedroom Ties
I denne workshop vil vi udforske nogle sjove ties, der er hurtige, enkle og ikke kræver en masse reb, så de nemt kan inkorporeres i scener eller bruges i soveværelset.


Erfarings niveau for deltagere: alle niveauer
Hvad skal du medbringe: reb, en partner. Vi kan partner folk op på dagen, hvis du er tryg ved dette.
English Version
In this workshop we'll explore some fun ties that are quick, simple and don't require a lot of rope so that they can easily be incorporated into scenes or used in the bedroom.


Requirements for participants: all levels
What to bring: rope, a partner. We can partner people up on the day if you are comfortable with this.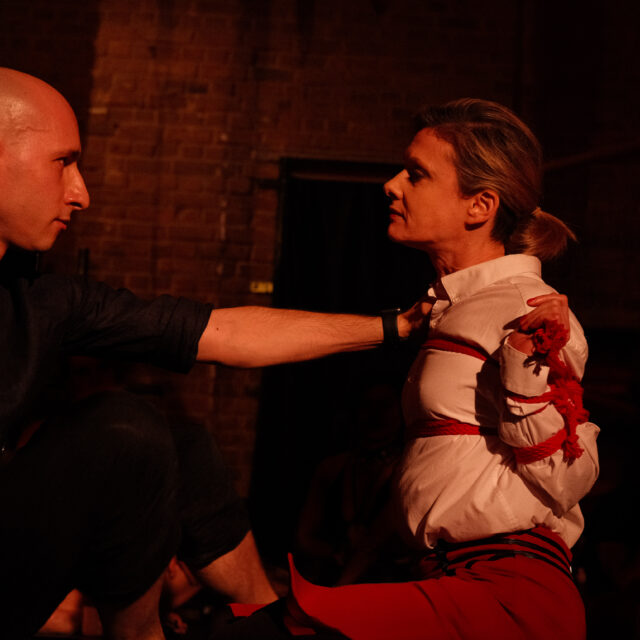 Noctuelle & Yourknots
Kin Convention Underviser
Anna Noctuelle Anna Noctuelle discovered Shibari in 2004 and has worked with this art form as a model, performer and teacher across Europe and for internationally known riggers. With her background in classical ballet and as a yoga student, Anna Noctuelle has exceptional body awareness skills in ropes and suspension. Her background in dance and her interest in Buddhism and meditation also influence her aesthetic and philosophical approach to Shibari. She works with many different styles but her emotional home is Semenawa and Naka Ryu. For her, Kinbaku is a practice that can teach you life, vision and maybe even wisdom. website: www.anna-noctuelle.com Insta: anna.noctuelle Fetlife: Noctuelle (not active user) Nik Yourknots Nik Yourknots has been interested in rope bondage for the last 6 years. His unique and eclectic style, with a focus on aesthetics and intention, stems from his training in three art institutions across Russia and the United Kingdom and the teachings of a variety of bondage artists from Europe, America and Asia. Nik's versatile work ranges from photo and video to performance and installation art. His interests reach beyond bondage to include poetry, dance, sound and video design, all of which feed into his work as a shibari artist. Nik's work has been featured in print, film, and events in the UK and internationally. Website: https://www.yourknots.art Insta: yourknots Fetlife: yourknots