Boost your confidence as a submissive
Føler du dig nogensinde ikke god nok? Er du nogle gange bange for at blive afslørret som en bedrager? Får dit forhold dig nogle gange til at føle dig usikker?
Så er denne klasse noget for dig…
Vi skal se på, hvem du virkelig er, og du vil arbejde på at turde se ærligt på dig selv – og acceptere og omfavne dig selv fuldstændigt.
Tillid er en meget, meget attraktiv færdighed. Når du kan føle dig mere selvsikker og dig selv som en underdanig, kan du give så meget mere mening til dit forhold.
Dette er en workshop! Det betyder, at du skal arbejde, ikke bare sidde og lytte:)
Du kan komme med eller uden Dominant/partner, men denne klasse er specielt for dig. Hvis det føles mere sikkert for dig at komme alene, så kom alene.
Erfarings niveau for deltagere:
Hvad skal du medbringe: et håndholdt spejl og blok og papir.
English Version
Do you ever feel not good enough? Are you sometimes scared to be demasqued as an impostor? Does your relationship sometimes make you feel insecure?
Then this class is for you…
We're gonna look at who you truly are, and you're gonna work on daring to look honestly to yourself- and accept and embrace yourself completely.
Confidence is a very, very attractive skill. When you can feel more confident and yourself as a submissive, you can give so much more meaning to your relationship.
This is a workshop! It means you're gonna work, not just sit and listen:)
You can come with or without Dominant/ partner, but this class is especially for you. If it feels more safe for you to come alone, come alone.
Requirements for participants:
What to bring: a hand mirror, a notebook and a pen.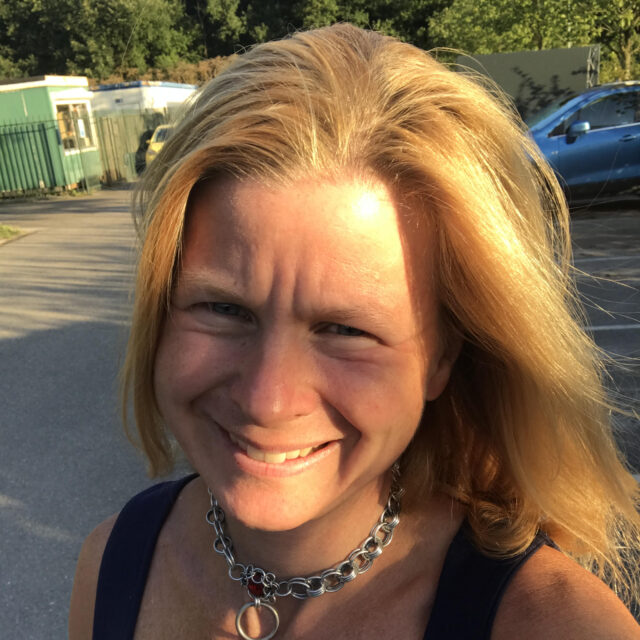 Kinky Sam
Kink Convention Underviser
My name is Kinky Sam Jones. I am in a Power Exchange relationship for over 4 years- evolving and growing in it, having different forms and shapes. We're living in different countries. When my own business collapsed in 2019 due to COVID I started a YouTube Channel called Kinky Assignments, meant to show the world the beauty of power exchange and kinks, so that everyone who is curious has a place to feel safe. I wrote so far two books: Sex, Truth and Freedom- my autobiography on how my power exchange journey started, and Playing with Passion, a Couple's Guide To a Passionate Love Life (will be out soon). In Real Life (well:)) I work as a trainer and coach, teaching how to have effective meetings, how to communicate well and how to get the max out of life and your relationships, I'm a mom and very sporty (I run marathons).