Escape challenge and rough body play – let the rope exhaust you
Beskrivelse: Denne workshop er en form for eksperimentel. Sammen skal vi udforske emnet flugt samt skabe flugtsikkerhed fysisk og i reb. Lad dig overraske!
Erfarings niveau for deltagere: Alle niveauer; I bør begge være åbne for at kæmpe med hinanden; som modeller skal du ikke være bange for at blive flugtsikker bundet eller holdt; som riggere kan en grundlæggende forståelse af kropsbevægelser samt simpelt rebmønster være nyttigt, men det er ikke nødvendigt
Hvad skal du medbringe: Reb, men måske bliver det muligt at låne nogle. Tag en partner med, hvis det er muligt, eller vi kan samle folk op på dagen, hvis du er tryg ved dette
English Version
Description: This workshop is some kind of experimental. Together we are going to explore the topic of escaping as well as creating escape proofness physically and in rope. Let yourself be surprised!
Level: All levels; both of you should be open to wrestle with each other; as models you should not be afraid of being escape proof tied or held; as riggers a basic understanding of body movement as well as simple rope pattern might be helpful but is not necessary.
What to bring: Ropes, but maybe it will be possible to borrow some. Bring a partner if possible, or we can partner people up on the day, if you are comfortable with this.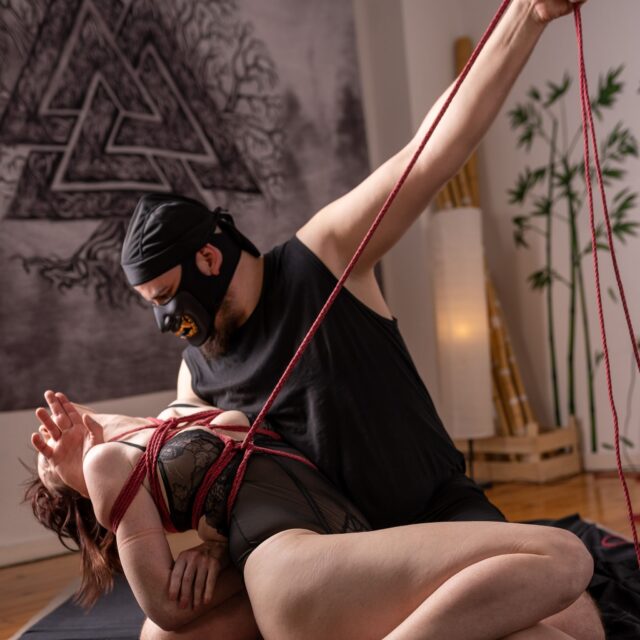 Bavragor
Kin Convention Underviser
Bavragor has been active in ropes since 2004 as rigger, for the first time autodidactic and since 2012 as student of several teachers, mostly at Klub Nawa since 2015. He is not following a specific style, but merges what seems to be practical, safe, fun and connecting. Since 2017 he has been offering rope shows within the BDSM scene but also on performance art or music events and festivals. He has been a public rope educator at latest since 2017 and given workshops in Germany and Denmark as well as regular teachings in Kiel. In 2013 he founded Tüdeltreff Freiburg and 2015 Tüdeltreff Kiel which currently is organized by Aventurin and him.
Profiles: