Fireplay
Meget leg handler om at slå med forskellige redskaber, men at lege med følelsen af ​​temperatur kan tilføje en helt ny dimension til din scene. Denne klasse er velegnet til begyndere og erfarne spillere på udkig efter nye ideer. Du er velkommen til at komme alene eller sammen med en partner. Du behøver ikke at medbringe noget udstyr til denne workshop, men hvis du ønsker at prøve ilden, så lad være med at dække dig selv med en masse brændbare genstande som hårspray!
Denne workshop vil dække en bred vifte af ideer til, hvordan man tilføjer temperaturfornemmelser i spil – fra koldt og meget koldt til varmt og varmt. Hvorfor det er interessant at gøre dette, vil blive diskuteret, og hvilken effekt det har på gamet. Sikkerhedsfaktorer vil blive diskuteret, samt hvordan man kan forhandler og diskutere leg før en leg. Meget ildleg handler om frygt og psykologi, så frygtlege ideer vil blive diskuteret om, hvordan man kan øge frygtlegen og opbygge forventningen, og hvordan dette bliver en meget anderledes scene. Samt måder at tilføje temperaturspil på en meget afslappende, musling måde uden frygt. Stearinlys og voksspil vil blive diskuteret og demonstreret, og du vil få mulighed for at prøve disse. Jeg vil dække forskellige typer af stearinlys, de sikreste materialer at bruge, og forskellige teknikker og de effekter, de har. Derefter vil vi gå over til ildleg – med et par forskellige måder at lege med ild diskuteret og sikkerhedsfaktorer dækket. Der vil være en praktisk demonstration af nogle ildlegeteknikker og en chance for omhyggeligt at afprøve dem (så længe bygningen og røgalarmerne tillader det!)
Erfarings niveau for deltagere: Intet erfarings niveau nødvendig
Hvad skal du medbringe: Alt udstyr vil blive stillet til rådighed til denne klasse, du behøver ikke at medbringe noget. Der vil være nogle ting at købe efter undervisningen, hvis du ønsker at fortsætte med at prøve tingene senere.
English Version
A lot of play is about hitting with various implements, but playing with the sensation of temperature can add a whole new dimension to your scene. This class is suitable for beginners and experienced players looking for new ideas. You are welcome to come alone or with a partner. You do not need to bring any equipment along to this class, but if you wish to try out the fire please do not cover yourself with a lot of flammable items like hairspray!
This class will cover a wide range of ideas on how to add temperature sensations into play – from cold and very cold through to warm and hot. Why it is interesting to do this will be discussed and what effect it has on the play. Safety factors will be discussed, as well as how to negotiate and discuss play before a scene. A lot of fire play is about fear and psychology, so fear play ideas will be discussed on how to heighten fear play and build up the anticipation, and how this will be a very different scene. As well as ways to add temperature play in a very relaxing, clam way with no fear play edge. Candles and wax play will be discussed and demonstrated and you will get a chance to try these out. I will cover different types of candles, the safest materials to use, and different techniques and the effects they have. Then we will move onto fire play – with a few different ways to play with fire discussed and safety factors covered. There will be a practical demonstration of some fire play techniques and a chance to carefully try them out (as long as the building and smoke alarms allow!)
Requirements for participants: None
What to bring: All equipment will be provided for this class, you do not need to bring anything along. There will be some items available to buy after the class if you wish to continue trying things out later.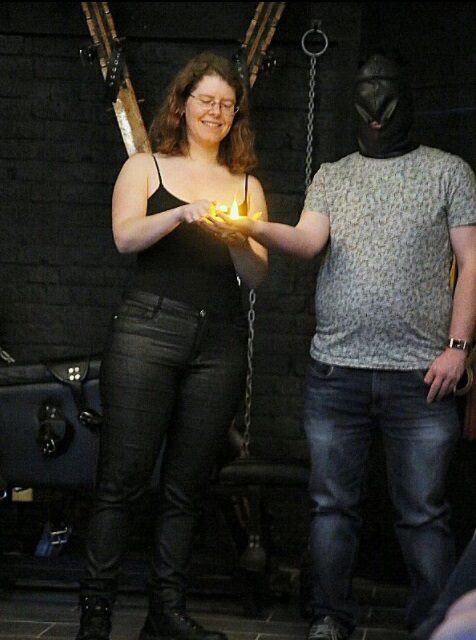 Vicky of Bondatrix
Kink Convention Underviser
These workshops will be run by Vicky of Bondatrix.com. Vicky has been on the Fetish scene for over 23 years, running workshops and a fetish business for 18 of those and has presented at Kinkfest, the Rome BDSM conference, Dublin wicked workshops, Erotica, Skin Two, the BBB, to name a few. Bondatrix runs a YouTube channel of How To kink videos – look up Bondatrix. Vicky is a specialist in many practical impact play and bondage techniques, as well as the psychology of putting everything together to create a wonderful play session. Bondatrix has won the International Bondage awards and the UK Fetish Awards. This is a fantastic opportunity to come and learn with one of the most established workshop presenters on the UK fetish scene. As well as having some fun trying various pieces of fetish equipment and seeing how they feel! There will the opportunity to buy Bondatrix.com equipment during and after the classes, as well as a selection of Bondatrix's products. Cash and cards accepted. There will only be a very small selection of the website's 500+ products so if you are interested in a specific item please message Bondatrix before the event. This is a great chance to buy Bondatrix items in person, without having to pay the postage and customs fees for shipping from the UK!