Florentine
Denne workshop henvender sig til dem, der har en vis erfaring med at bruge en flogger og er vant til enhånds piskning og ønsker at lære mere om tohånds piskning, herunder florentinske teknikker. Denne workshop henvender sig ikke til helt nybegyndere, som ikke er vant til at bruge en flogger – jeg afholder en begynderklasse, som vil passe bedre til dig, selvom du er velkommen til at komme og se denne time, hvis du er nysgerrig. Hvis du er en underdanig, der gerne vil opleve, hvordan florentinsk prygl føles, er du også velkommen til at deltage og opleve det. Du behøver ikke at komme til denne klasse med en partner, du er velkommen til at komme alene eller som par.
Klassen vil dække en række tohånds-pisketeknikker med en diskussion af, hvordan de har det, hvorfor de er nyttige, og en praktisk demonstration af, hvordan man gør dem. Dette vil inkludere tid til at prøve de forskellige teknikker – der vil blive leveret floggers, hvis du ikke har dine egne (og vil være tilgængelige til at købe til sidst, hvis du vil beholde dem). De forskellige typer af floggers tilgængelige for tohåndsteknikker vil blive diskuteret og fordele og ulemper ved hver type. Derefter vil der blive demonstreret florentinsk pisk, hvilket er en lidt mere kompliceret tohåndsteknik i forhold til de første teknikker, som vil blive vist, som vil være ret enkle at prøve. Florentinsk pisk er en dejlig flowteknik, som ser fantastisk ud og føles intens for den underdanige modtagelse. Hvis du ikke er stødt på teknikken, så slå Bondatrix-kanalen op på YouTube.
Erfarings niveau for deltagere: Let øvet med en flogger
Hvad skal du medbringe: Medbring gerne egne florentine floggers. Ellers er det muligt at låne.
English Version
This workshop is aimed at those who have some experience with floggers and are used to one-handed flogging and want to learn more about two-handed flogging, including florentine techniques. This workshop is not aimed at complete beginners who are not used to using a flogger – I am running a beginners class which will suit you better, although you are welcome to come and watch this class if you are intrigued. If you are a submissive who would like to experience what florentine flogging feels like you are also welcome to attend and experience it. You do not need to come to this class with a partner, you are welcome to come alone or as a couple.
The class will cover a range of two handed flogging techniques, with a discussion of how they feel, why they are useful, and a practical demonstration on how to do them. This will include time to try the various techniques out – floggers will be provided if you do not have you own (and will be available to buy at the end if you want to keep them). The various types of floggers available for two handed techniques will be discussed and the benefits and disadvantages of each type. Florentine flogging will then be demonstrated, which is a slightly more complicated two-handed techniques compared to the first techniques which will be shown, which will be quite simple to try out. Florentine flogging is a lovely flow technique, which looks stunning and feels intense for the submissive receiving. If you have not come across the technique look up the Bondatrix channel on YouTube.
Requirements for participants: Lightly practiced with a flogger
What to bring: Feel free to bring your own Florentine floggers. Otherwise it is possible to borrow.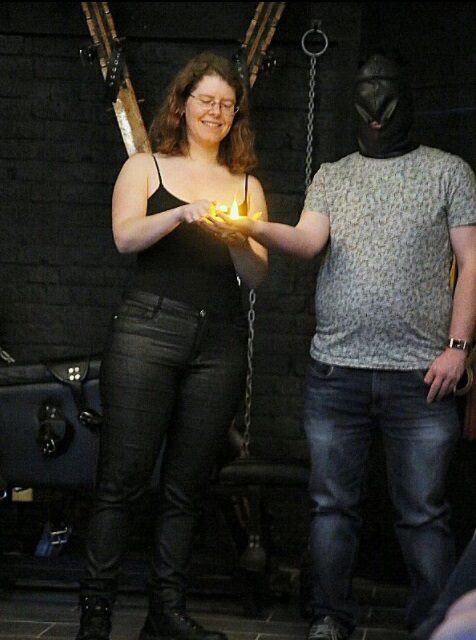 Vicky of Bondatrix
Kink Convention Underviser
These workshops will be run by Vicky of Bondatrix.com. Vicky has been on the Fetish scene for over 23 years, running workshops and a fetish business for 18 of those and has presented at Kinkfest, the Rome BDSM conference, Dublin wicked workshops, Erotica, Skin Two, the BBB, to name a few. Bondatrix runs a YouTube channel of How To kink videos – look up Bondatrix. Vicky is a specialist in many practical impact play and bondage techniques, as well as the psychology of putting everything together to create a wonderful play session. Bondatrix has won the International Bondage awards and the UK Fetish Awards. This is a fantastic opportunity to come and learn with one of the most established workshop presenters on the UK fetish scene. As well as having some fun trying various pieces of fetish equipment and seeing how they feel! There will the opportunity to buy Bondatrix.com equipment during and after the classes, as well as a selection of Bondatrix's products. Cash and cards accepted. There will only be a very small selection of the website's 500+ products so if you are interested in a specific item please message Bondatrix before the event. This is a great chance to buy Bondatrix items in person, without having to pay the postage and customs fees for shipping from the UK!