GETTING IN THE RIGHT SPACE FOR PLAY
OPRET DIT EGET SUBMISSIVE MANTRA – KOM I DET RIGTIGE MINDSET TIL AT LEGE
Det er ikke altid nemt at komme ind på det rigtige mindset, men det er altid muligt.
At skabe et legerum, forberede dig selv og sætte dit sind i ro og fred er alle måder til langsomt at tie dig selv og være forberedt på tid sammen, i underkastelse.
Et af de mest vidunderlige værktøjer er mantraer. Enkle sætninger, som du selv kan sige, for at få dig på det rigtige sted. Her er et eksempel på en kompleks, som jeg engang oprettede:
Hvad med at skabe den, der er perfekt til dig?
Dette er en gave for livet.
Erfarings niveau for deltagere:
Hvad skal du medbringe: Dette er en workshop! Medbring pen og papir, for at kunne lave noter.
English Version
CREATE YOUR OWN SUBMISSIVE MANTRA – GETTING IN THE RIGHT SPACE FOR PLAY
Getting into the right space is not always easy, but it is always possible.
Creating a play space, preparing yourself, and putting your mind at ease and at peace are all ways to slowly silence yourself and be prepared for time together, in submission.
One of the most wonderful tools is mantras. Simple sentences that you can say for yourself, to get you in the right space. Here is an example of a complex one that I once created:
How about creating the one that is perfect for you?
This is a gift for life.
Requirements for participants:
What to bring: This is a workshop! Bring pen and paper, to be able to make notes.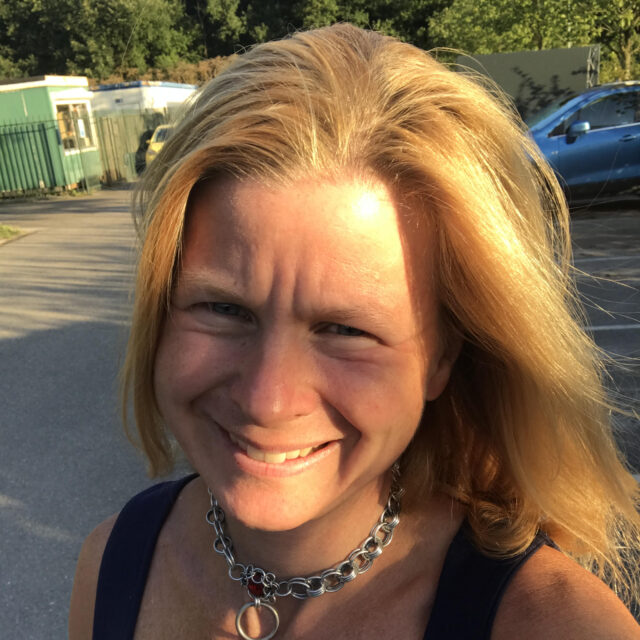 Kinky Sam
Kink Convention Underviser
My name is Kinky Sam Jones. I am in a Power Exchange relationship for over 4 years- evolving and growing in it, having different forms and shapes. We're living in different countries. When my own business collapsed in 2019 due to COVID I started a YouTube Channel called Kinky Assignments, meant to show the world the beauty of power exchange and kinks, so that everyone who is curious has a place to feel safe. I wrote so far two books: Sex, Truth and Freedom- my autobiography on how my power exchange journey started, and Playing with Passion, a Couple's Guide To a Passionate Love Life (will be out soon). In Real Life (well:)) I work as a trainer and coach, teaching how to have effective meetings, how to communicate well and how to get the max out of life and your relationships, I'm a mom and very sporty (I run marathons).