Hip harnesses for suspension
Hofteseler kan være et nyttigt værktøj til at stabilisere en affjedring, gøre den mere tålelig for modellen og skabe en form for sikker platform for riggeren. Vi skal øve nogle forskellige slags hofteseler og hvordan man bruger dem. Desuden vil vi vise deres specifikke fordele for forskellige affjedring eller karrosserityper, og hvordan man justerer dem. Denne workshop er gavnlig for begyndere med affjedring til at finde en sikker måde at håndtere emnet på, såvel som erfarne, der kan lide at gå efter nye mønstre og hoftebelastede ophæng med mulighed for overgange.
Erfarings niveau for deltagere: Du skal være komfortabel med affjedring; som model skal du kunne håndtere vægtbelastning fra din hofte, men behøver ikke at være erfaren med affjedring; som rigger bør du kunne binde en sikker overkropssele og ordentlige uplines med sikre låse, du behøver ikke at være bekendt med overgange.
Hvad skal du medbringe: Reb, men måske bliver det muligt at låne nogle, samt ophæng og sikkerhedsværktøj; karabinhager kan være nyttige. Tag en partner med, hvis det er muligt, eller vi kan samle folk op på dagen, hvis du er tryg ved dette.
English Version
Description: Hip harnesses can be a useful tool to stabilize a suspension, make it more bearable for the model and create some kind of safe platform for the rigger. We are going to practice some different kinds of hip harnesses and how to use them. Furthermore we will show their specific advantages for different suspension or body types and how to adjust them. This workshop is beneficial for suspension beginners to find a safe way to deal with the topic as well as experienced ones who like to go for new patterns and hip loaded suspensions with the option for transitions.
Level: You should be comfortable with suspensions; as model you should be able to handle weight load from your hip, but do not need to be experienced with suspensions; as rigger you should be able to tie a safe upper body harness and proper uplines with safe locks, you do not need to be familiar with transitions.
What to bring: Ropes, but maybe it will be possible to borrow some, as well as suspension and security tools; carabiners might be useful. Bring a partner if possible, or we can partner people up on the day, if you are comfortable with this.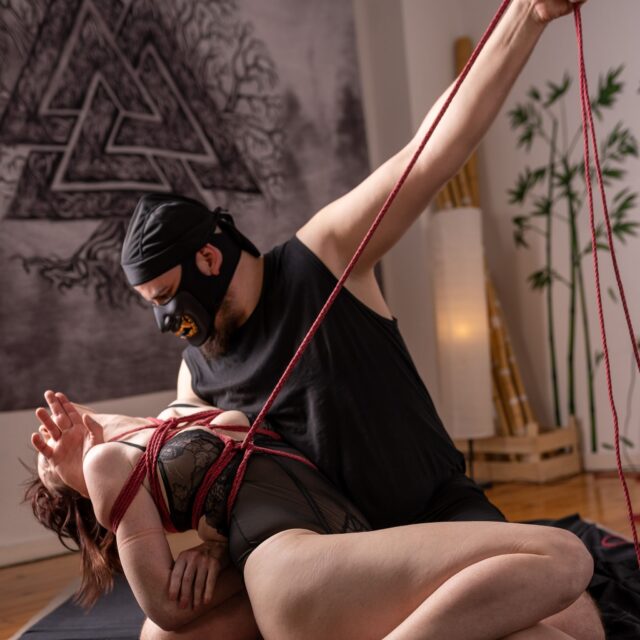 Bavragor
Kin Convention Underviser
Bavragor has been active in ropes since 2004 as rigger, for the first time autodidactic and since 2012 as student of several teachers, mostly at Klub Nawa since 2015. He is not following a specific style, but merges what seems to be practical, safe, fun and connecting. Since 2017 he has been offering rope shows within the BDSM scene but also on performance art or music events and festivals. He has been a public rope educator at latest since 2017 and given workshops in Germany and Denmark as well as regular teachings in Kiel. In 2013 he founded Tüdeltreff Freiburg and 2015 Tüdeltreff Kiel which currently is organized by Aventurin and him.
Profiles: