Lazy rigger style – a way of sadistic rope
Beskrivelse: Er du en rigger? Kan du lide at få din model i knibe? Men du hader at være svedig over det hele, selv før du er færdig eller i det mindste i slutningen af din scene? Så denne workshop vil vise dig, hvordan du nemt etablerer stigende niveauer af komplekse vanskeligheder for din model, mens du er 'doven' og lader rebet gøre arbejdet for uden manglen på at trykke på 'knapper' for at kontrollere scenen.
Erfarings niveau for deltagere: Alle niveauer, for det meste gulvarbejde, ophæng valgfrit; som modeller bør du være komfortabel med sadistiske og smertefulde bånd; som riggere bør du være bekendt med startknuder som enkelt eller dobbelt søjlebinding
Hvad skal du medbringe: Reb, men måske bliver det muligt at låne nogle. Tag en partner med, hvis det er muligt, eller vi kan partner folk op på dagen, hvis du er tryg ved dette; det anbefales at kende hinanden og især de passive partneres præferencer og grænser i knibe
English Version
Description: You are a rigger? You like to get your model into predicament? But you hate to be sweaty all over even before you finished or at least at the end of your scene? So, this workshop will show you how to easily establish ascending levels of complex predicament for your model while you being 'lazy' and let the rope do the work for without the lack of pushing 'buttons' to control the scene.
Level: All levels, mostly floor work, suspensions optional; as models you should be comfortable with sadistic and painful ties; as riggers you should be familiar with starter knots like single or double column tie.
What to bring: Ropes, but maybe it will be possible to borrow some. Bring a partner if possible, or we can partner people up on the day, if you are comfortable with this; it is recommended to know each other and especially the passive partners preferences and limits in predicament.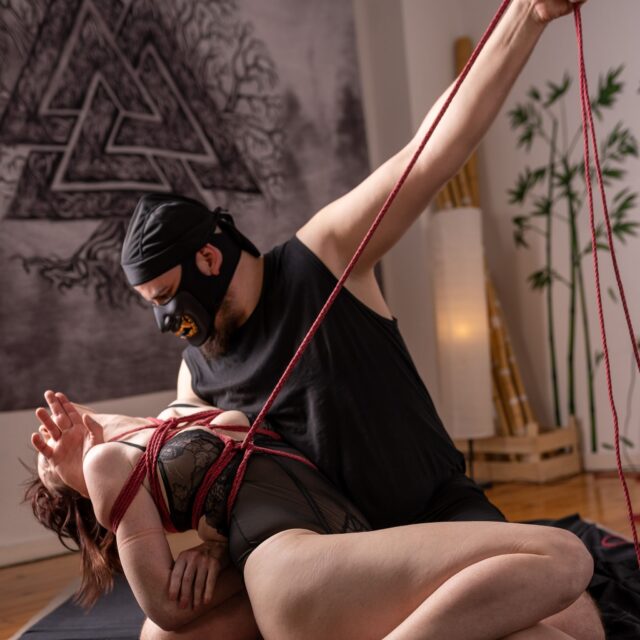 Bavragor
Kin Convention Underviser
Bavragor has been active in ropes since 2004 as rigger, for the first time autodidactic and since 2012 as student of several teachers, mostly at Klub Nawa since 2015. He is not following a specific style, but merges what seems to be practical, safe, fun and connecting. Since 2017 he has been offering rope shows within the BDSM scene but also on performance art or music events and festivals. He has been a public rope educator at latest since 2017 and given workshops in Germany and Denmark as well as regular teachings in Kiel. In 2013 he founded Tüdeltreff Freiburg and 2015 Tüdeltreff Kiel which currently is organized by Aventurin and him.
Profiles: