Mix & Match in rope
Denne workshop handler om at blive blandet med andre og at binde sig til dem med bind for øjnene. Ideen er at opleve en ukendt rebpartners kropspræferencer og adfærd og tilpasse sig hinanden. Workshopinstruktørerne vil sandsynligvis ikke deltage aktivt, men overvåge for at sikre, at alle opfører sig fint og respekterer grænser. Desuden vil vi etablere specifikke scenarier, som vil overraske dig.
Hvis du er åben over for det uforudsete i reb og til at se det i øjnene, kan denne workshop være et brag for dig.
Erfarings niveau for deltagere: Alle niveauer for riggere og modeller; du skal føle dig tryg ved at binde eller blive bundet med bind for øjnene, også af ukendte personer
Hvad skal du medbringe: Reb, men måske bliver det muligt at låne nogle. Medbring en partner, hvis det er muligt, men ikke nødvendigvis; inden for denne workshop vil vi blande reb-partnere, så det ville være nyttigt at have en lige stor andel af riggere og modeller
English Version
Description: This workshop is about being mixed with others and to tie with them blindfolded. The idea is to experience the body preferences and behaviour of an unknown rope partner and to adjust to each other. The workshop instructors will likely not actively take part but supervise to make sure everyone behaves fine and respects limits. Furthermore we will establish specific scenarios, which are going to surprise you.
If you are open for the unforeseen in rope and to face it, this workshop might be a blast for you.
Level: All levels for riggers and models; you should feel comfortable with tying or being tied blindfolded, also by unknown persons
What to bring: Ropes, but maybe it will be possible to borrow some. Bring a partner if possible, but not necessarily; within this workshop we will mix rope partners, so it would be useful to have an equal proportion of riggers and models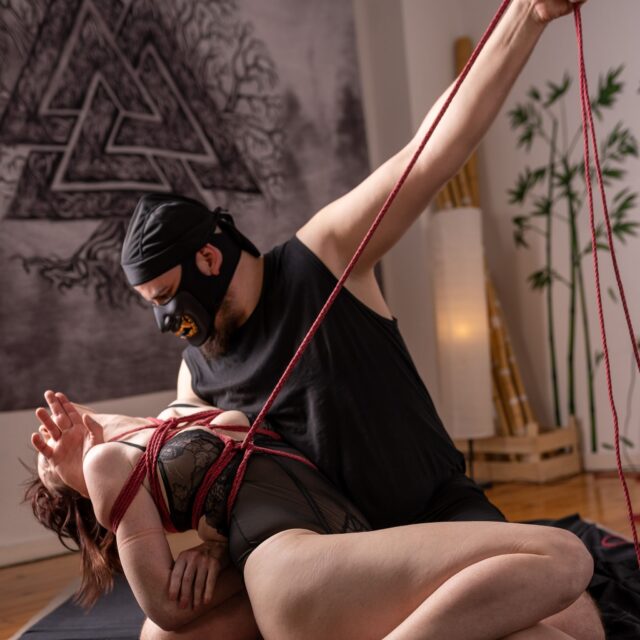 Bavragor
Kin Convention Underviser
Bavragor has been active in ropes since 2004 as rigger, for the first time autodidactic and since 2012 as student of several teachers, mostly at Klub Nawa since 2015. He is not following a specific style, but merges what seems to be practical, safe, fun and connecting. Since 2017 he has been offering rope shows within the BDSM scene but also on performance art or music events and festivals. He has been a public rope educator at latest since 2017 and given workshops in Germany and Denmark as well as regular teachings in Kiel. In 2013 he founded Tüdeltreff Freiburg and 2015 Tüdeltreff Kiel which currently is organized by Aventurin and him.
Profiles: